Trang 1 trong tổng số 1 trang
Nice attack: Grief and anger in France after church stabbings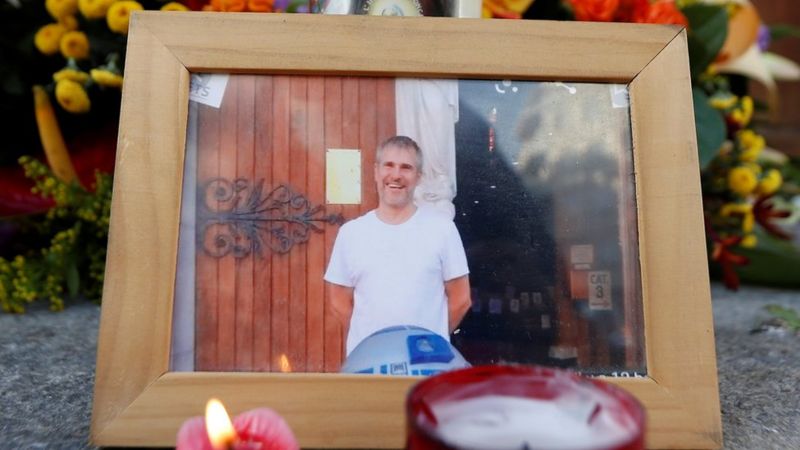 Flowers and candles have been placed outside the church in the southern French city of Nice where three people were
stabbed to death.
President Emmanuel Macron said Thursday's stabbings were an "Islamist terrorist attack". Security is being stepped up
throughout France.
The 21-year-old Tunisian suspect arrived in the city the night before the attack, his brother told the BBC.
Meanwhile, France's interior minister said more militant attacks were likely.
"We need to understand that there have been and there will be other events such as these terrible attacks," said Gerald
Darmanin. "We're at war against an ideology, Islamist ideology."
Security has been increased at places of worship and schools across France following two similar attacks within two
weeks. Earlier this month a teacher was beheaded in a Paris suburb after showing controversial cartoons of the Prophet
Muhammad to some of his pupils.
Mr Macron's subsequent defence of the right to publish the cartoons has stoked anger in several Muslim-majority
countries.
Following the latest attack, police shot and wounded the suspected knifeman, who had only recently arrived in Europe.
He is said to be in a critical condition in hospital.
President Emmanuel Macron has ordered that the number of soldiers being deployed to protect public places - such
as churches and schools - rises from 3,000 to 7,000.
Meanwhile, police investigating the attack have made a second arrest.
What do we know about the victims?
The two women and a man were attacked inside the basilica in the morning before the first Mass of the day.
Two died inside the church. One of them, a 60-year-old woman who has not been named, was "virtually beheaded"
close to the font, according to the French chief anti-terrorism prosecutor.
French media have named one victim as 55-year-old Vincent Loquès, a devout Catholic who had reportedly worked
at the basilica for more than 10 years.
Mr Loquès, a father of two loved by many of the church's regulars, was opening the building when the attacker slit
his throat, police say.
Peace seems far from reach
Outside the doors of Notre-Dame, the bright light of a Nice morning rose on small collections of flowers and candles
left by local residents last night. The message on one bouquet reads: "Nice is still standing. Rest in peace."
For the living, though, peace seems far from reach. We met the treasurer of Notre-Dame, Jean-Francois Gourdon,
outside the church. He knew Vincent Loquès well. He told me how he'd left Vincent in the church on Thursday
morning, just before the attack, and returned to find him dead - a large wound to his throat. Telling his wife was
awful, he said. She'd been planning celebrations for his birthday this week.
There are still more details on this matter, you can follow it here :
pg

lily9889




Tổng số bài gửi

: 27


Join date

: 28/09/2020



---
Trang 1 trong tổng số 1 trang
Permissions in this forum:
Bạn
không có quyền
trả lời bài viết