Trang 1 trong tổng số 1 trang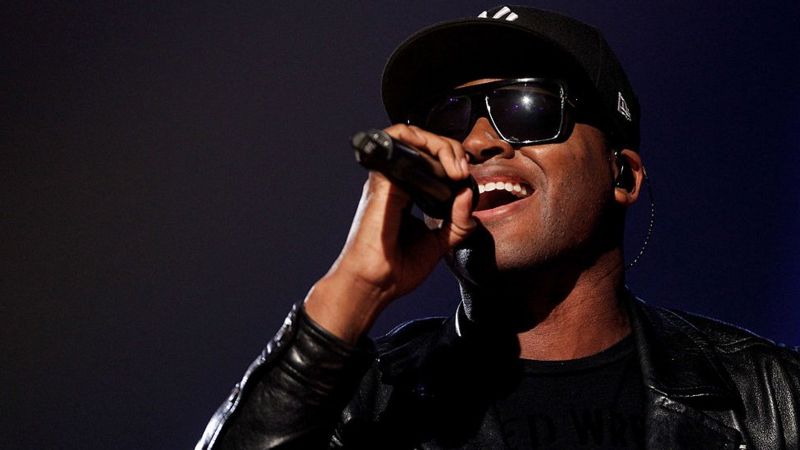 Pop star Taio Cruz says social media sites need to "change their practices", after his experience on TikTok left him with "suicidal thoughts".
The singer quit the video-sharing app last month, after other users left "hateful" comments under his posts.
He says TikTok's algorithms created a "feedback spiral" that amplified negative reactions, prompting more and more users to target him.
"It was like an ambush," he tells the BBC in an exclusive interview.
The London-born singer rose to fame in the late 2000s, scoring number one singles in the US and the UK with hits like Dynamite and Break Your Heart.
After a break from the music industry, he joined TikTok in September and quickly gained 85,000 followers - but says he was almost immediately targeted by abusive comments.
"I think there's a mob mentality that happens in comment sections," he explains. "A lot of the time people will see something, then look at the comments to give them the answer of how they should feel about it, or how they should behave.
"And I think that's really what happened with with my stuff. I was making fun videos, then someone decided to be toxic - and a bunch of other people decided, 'Oh, I'm gonna join in on that.'"
One user accused him of "begging for clout", and another claimed he had deleted critical comments - an allegation he maintains is untrue.
"I didn't lie [but] I can't prove a negative," he says. "It's like you're being prosecuted for a crime you didn't commit."
'Zero tolerance'
The negative comments had a snowball effect, with more and more people piling into Cruz's mentions. The singer says the platform's design enables that sort of behaviour.
"Tik Tok really emphasises making users' content go viral through their 'For You' page - and it has this sort of feedback loop or a feedback spiral.
"So if you create a piece of content, then someone else creates content from your content, it loops over and over and over again."
That means "if someone says something good, it's a positive loop, but if somebody uses it badly, the exact same thing happens in the negative way."
Just a few days after joining TikTok, the star deleted all his posts and signed off. All he left behind was a statement explaining the toll the experience had taken on him.
"My body was shaking and I had suicidal thoughts," he wrote. "I pride myself on being mentally resilient so the fact that I felt that way, shocked even me."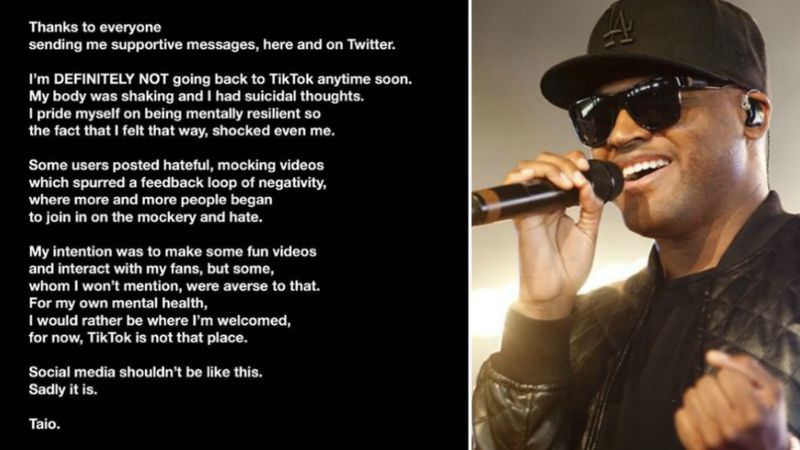 Looking back, he says "the reason I had those thoughts and that level of depression and that level of anxiety [was] the injustice of it.
"Everyone's screaming at you going, 'He's a witch,' and you're like, 'I didn't do the black magic,' and they're like, 'Well, he's a witch anyway'. So it was horrible. I'm not a fan."
The musician previously established his own social media platform - KeWe - which offered users much greater control over who could see and respond to their posts.
"I wanted to create a landscape that was comment-free, that kind of fixed the issues that social media has created," he says. However, the app failed to attract the level of investment needed to compete with Twitter, Facebook and Instagram, and ultimately shut down.
"Unfortunately," he concludes, "the only way to fix this is for the current platforms to change their practices".
Responding to his comments, a spokesperson for TikTok said: "We're huge fans of Taio and we were extremely disappointed that he experienced negativity from a limited number of users."
They added that the platform had "a zero tolerance approach to bullying and harassment" and had spoken to Cruz about how to "improve the experience for all users".
'Not the biggest fan of fame'
A month after his untimely exit from TikTok, Cruz was upbeat and confident as he spoke to the BBC from Los Angeles.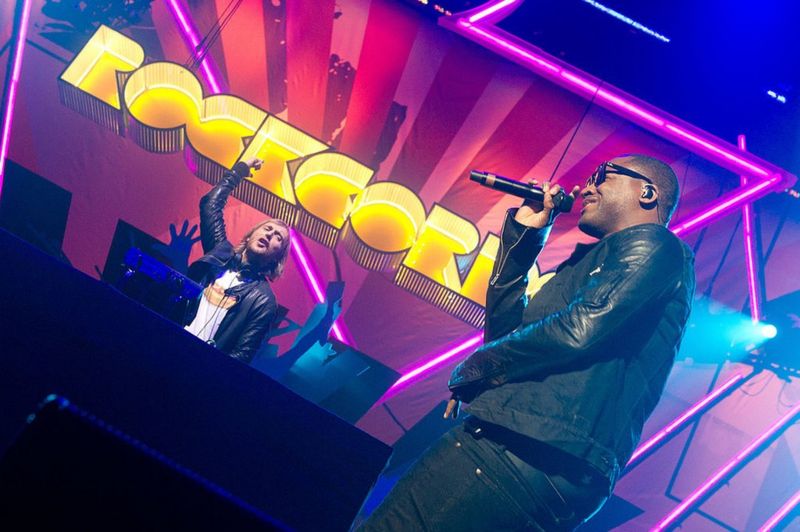 The song came to him late one night, and he created the basic track on his laptop "in bed, in my pyjamas".
It comes eight years since Cruz last had a hit single - around the same time he performed at the closing ceremony of the London Olympics.
For more information, please visit pgslot

chanchai




Tổng số bài gửi

: 19


Join date

: 13/10/2020




Thadee Phutsri




Tổng số bài gửi

: 12


Join date

: 27/10/2020



---
Trang 1 trong tổng số 1 trang
Permissions in this forum:
Bạn
không có quyền
trả lời bài viết