Trang 1 trong tổng số 1 trang
Vienna shooting: Austria hunts suspects after 'Islamist terror' attack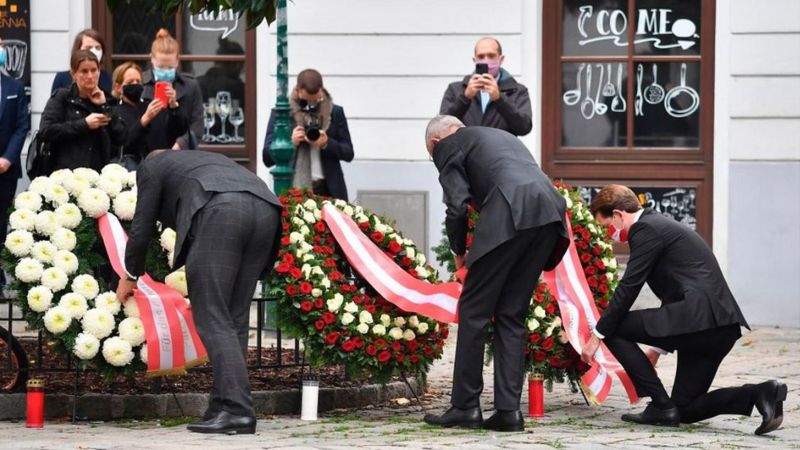 Austrian police have urged people to stay indoors as they hunt for suspects after a multiple gun attack in the capital
Vienna that killed four people.
A gunman shot dead by police has been identified as a 20-year-old "Islamist terrorist" who was released early from jail
in December.
Two men and two women died of their wounds after gunmen opened fire at six locations in the city centre on Monday
evening.
Twenty-two people were wounded.
Austrian Chancellor Sebastian Kurz said the four who died were an elderly woman, an elderly man, a young male passer-
by and a waitress. Witnesses described how the gunmen had opened fire on people outside bars and chased them as
they fled inside.
It was clearly an attack driven by "hatred of our way of life, our democracy", the chancellor said. He earlier spoke of
a "repulsive terror attack".
The nation was engaged not in a battle between Christians and Muslims, he stressed, but "between civilisation and
barbarism".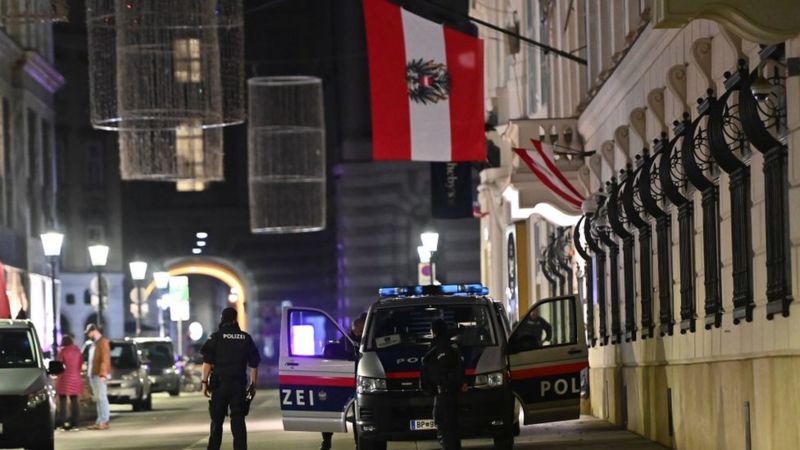 Islamic State connection
Interior Minister Karl Nehammer described the dead gunman as an "Islamist terrorist", jailed for 22 months in April
2019 after trying to get to war-torn Syria to join Islamic State (IS) jihadists. The 20-year-old had been released early
last December under more lenient terms for young adults.
Mr Nehammer urged Austrians to "please stay at home if possible" during the police operation and "avoid the inner city".
Children should stay at home, not go to school on Tuesday, he said.
Austrian daily Der Standard reports that 90% of shops in the city centre are now shut.
The victims were in a city centre area busy with people in bars and restaurants, near Vienna's central synagogue.
Police cordoned off some streets and brought in reinforcements. They are also being helped by the Austrian army.
How did the attack unfold?
Police say the incident began at about 20:00 (19:00 GMT), near the Seitenstettengasse synagogue, when a heavily
armed man opened fire on people outside cafes and restaurants.
Vienna Community Rabbi Schlomo Hofmeister said he saw at least two gunmen shoot at least 100 rounds in front of
the synagogue compound. "They were attacking the guests of bars and pubs. People were jumping and running,
falling over the tables, running inside the bars followed by the gunmen also running inside the bars," he told London
radio station LBC.
Members of the special forces quickly arrived at the scene. One policeman was shot and critically wounded before
the perpetrator, armed with an automatic rifle, a pistol and a machete, was, in the police chief's words, "neutralised"
at 20:09.
If you don't want to miss out on this, come and follow here. :
slotxo

lily9889




Tổng số bài gửi

: 27


Join date

: 28/09/2020



---
Trang 1 trong tổng số 1 trang
Permissions in this forum:
Bạn
không có quyền
trả lời bài viết